2021 Membership Renewals and Fees
Update on Membership 2021.
As advised in my message of 22nd December the committee have considered the position on membership fees for 2021 and I want to set out our position below.
Clearly since my last message, the country has been put into another national lockdown with, at the moment, no indication of when our club will be able to reopen.
The Committee have, therefore, decided to open renewals in a different way to previous years. Fees will remain at the same level as 2020 which can be seen on the "Join Us" section of the club website. Despite not knowing when we will be allowed to open, we feel this is still very good value for money as an annual payment to be a member of our great club. Fees can now be paid electronically to our Bank Account details as below:
| | |
| --- | --- |
| Account Name | Chandlers Ford Central Club & Institute Ltd |
| Bank Sort Code | 30-92-94 |
| Account Number | 50236768 |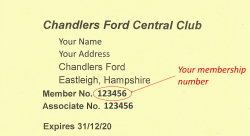 When sending the money please ensure you put your Member Number which can be seen on your Yellow Membership Card and Surname into the Payment Reference. This is extremely important so we can match the details on our system and arrange for 2021 Cards to be available when we open. If paying for several Family members, please contact the club once payment has been made so we can match the details, using Contact Us.
If you want a CIU Pass card, please remember to add £3.50 for each Card. All Membership Cards will be prepared and will then be available for collection on re-opening.
For those who do not have Online Banking capability, Fees will need to be paid within one month of re-opening and we will place a reminder on our website and official Facebook page as soon as more details are known.
I would really encourage as many members as possible to pay Online and whilst our annual fees are an important part of our income I would also like to reassure all members that the club remains in a good financial position as we have availed ourselves of the various support packages that have been made available by the Government.
I will look to keep you all informed as we find out more about our ability to reopen but in the meantime let's hope the Government can roll out the vaccine quickly and effectively to enable us all to get back socialising in our great club.
Please keep well and safe.
Mark W Treacy
Club President
11th January 2021